Triptych One
Dancers (L-R) Lisa Massei, Eleanor Bernard, Ciscoe Bruton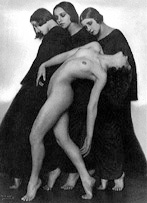 The photographs of Lisa and Eleanor were designed especially for the Pose/Repose show. The first image in this triptych was inspired by Rudolf Koppitz's 1926 Study of Movement, which you see on the left. The original print sold recently at Sotheby's for over $100,000.

This is a variation on another triptych in the show. The photograph of Ciscoe Bruton was an accidental, but happy double-exposure.